Go Fishing - Location and Fish Tracking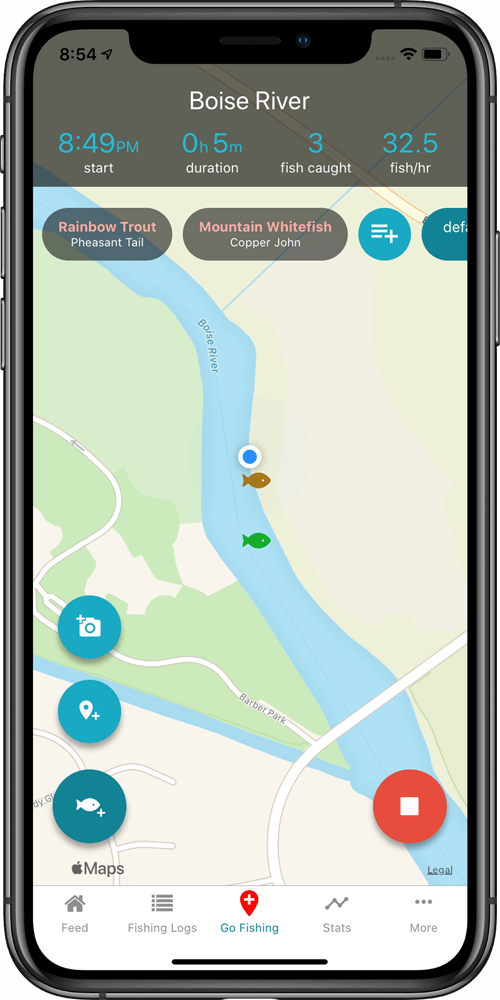 This user created two catch shortcuts: one for Rainbow Trout caught on a Pheasant Tail, and another for Mountain Whitefish caught on a Copper John. Pressing the shortcut adds another catch to the fishing trip.
When you Go Fishing with the app, Fish Swami will record:
a GPS track of where you fished
the GPS location and time of each catch
While you're fishing, you can add new pictures and new waypoints to save with your fishing log.
Once you stop fishing, a map will show you where you fished and where you caught fish.
Catch Shortcuts
Fiddling with your phone while you're out fishing is less than ideal. To minimize fishing interruptions, you can create "catch shortcuts" ahead of time. Catch shortcuts are one-touch buttons for adding caught fish. The shortcuts specify optional fields for fish species, pattern, fish size, and number of fish caught.
To simplify large lists of catch shortcuts, you can organize the lists into groups. Make different groups for different waters that you fish; create shortcut groups ahead of time if you know the fish species and patterns you'll likely use on your upcoming trips.
Recent Catches
Recent catches pre-fills in catch information from recent catches, allowing you to modify the catch information before saving it.